Hotel & Venue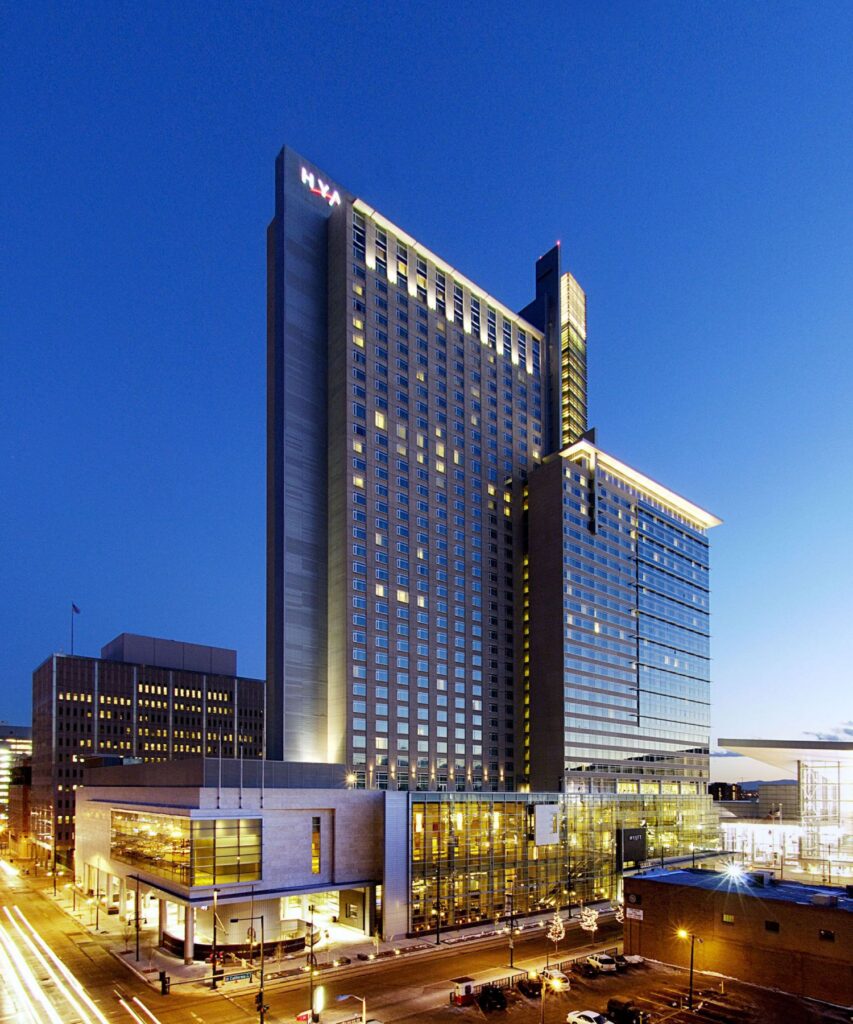 Hyatt Regency Denver at Colorado Convention Center
650 15th Street, Denver, CO 80202
Situated in the heart of downtown Denver, Hyatt Regency Denver at Colorado Convention Center offers views of the Rocky Mountains and the city's dramatic skyline. Located just one block from shopping at 16th Street Mall, this contemporary luxury hotel is close to some of the city's most popular historic, cultural and entertainment venues. The hotel offers a stylish stay in downtown Denver with access to the 27th-floor Peaks Lounge, the highest-rising lounge in the city with spectacular Rocky Mountain views.
A room block with discounted rates is available on a first-come, first-served basis exclusively for Annual Meeting attendees. Book your hotel online today!
Room Rates
A limited room block is available with an exclusive rate of $219.00 is available for meeting attendees. Rooms are available on a first come, first served basis. All room rates are subject to state and local taxes. Hotel check-in is 4:00 pm; check-out is 11:00 am.
Important Safety Information
We recommend checking the local COVID guidelines in Colorado for the latest updates and policies within the state: https://covid19.colorado.gov/travel
Like most properties in light of COVID-19, the Hyatt Regency will only offer housekeeping by request only. If you need housekeeping during your stay, you will need to request it at the front desk during check-in. Please review Hyatt's full safety and cleanliness policies located here.
Reservation Deadline
The deadline to reserve a room at the discounted rate is March 10, 2023. A limited number of rooms is available and could sell out prior to the deadline date. We recommend booking as early as possible to secure your room within our block and make the most of your hotel experience. One night's room plus tax may be required to hold your reservation. Additional guest charges may apply for more than two occupants per room—check when making your reservations.
Reservation Cancellation Policy
Reservations can be cancelled up to 72 hours prior to arrival without penalty. If cancellation tis made within 72 hours of arrival, a cancellation fee equal to one night plus state and local taxes will be charged.
Transportation & Parking
The Denver International Airport is located 25 miles/37 mins from the Hyatt Regency hotel. Uber and Lyft are available.
Denver Airport Rail – Travelers can use A Line, the rail service from Denver International Airport to LoDo's (lower downtown) Union Station and back, courtesy of Regional Transportation District (RTD). The Denver Airport Rail has six stops along the way and takes approximately 37 minutes at a cost of $10.50 each way.
For your convenience, the hotel offers self-parking for $42 per night, subject to availability. Underground hotel covered self-parking is located off 14th and Welton Streets. The parking office for vehicle departure is adjacent to the parking elevators on the lobby level. (Late checkout fees for vehicles parked past 12:30 p.m. on scheduled departure day may apply.) Valet parking at a rate of $52 per night is also available.
Beware of Scams
IARS, AUA & SOCCA are the only official housing providers for the Annual Meeting. Solicitation of hotel reservations from any housing provider other than IARS, AUA & SOCCA is not approved by the conference. Hotel reservations made by unaffiliated organizations may appear to be for lower rates; however, they may be illegitimate. Please be aware of, and report, any unauthorized solicitation to [email protected].