NETWORKING AND MENTORING ACTIVITIES
Take time to network online with your fellow attendees! There is no fee to attend these events (unless otherwise noted), but pre-registration is required. All registered attendees can add these sessions in the virtual meeting platform. 
All sessions are listed in Eastern Time.
AUA 2022 ANNUAL MEETING
Junior Faculty Networking Reception, Thursday, March 17, 7:15 pm – 8:15 pm ET
These networking sessions allow AUA members to connect, establish professional networks, and discuss topics pertinent to a career in academic anesthesiology. Based on members' feedback, three concurrent sessions will be held. Each session will be hosted by members of the advisory boards and is open to registrants of the annual meeting. 
To join these informal networking conversations, please add this during online registration. Prior to the meeting, you will also have the opportunity to indicate the topics you're most interested in or submit additional topics for discussion.
Session 1: Leadership Advisory Board members will facilitate conversations ranging from managing your mentor, managing your time, finding your path in academic medicine, advancing your career, DEI and gender issues.
Session 2: Scientific Advisory Board members will facilitate conversations ranging from getting started in clinical research, finding resources, grant writing, and grant transitions.
Session 3: Education Advisory Board members will facilitate conversations ranging from ethics in medicine and in medical education, education scholarship, and education research.  
Women in Academic Anesthesiology Networking Session, Friday, March 18, 10:00 am – 11:00 am ET
This peer mentoring session will facilitate informal discussion among participants, and provide opportunities to share stories and find practical and sustainable solutions to individual challenges.
SOCCA 2022 ANNUAL MEETING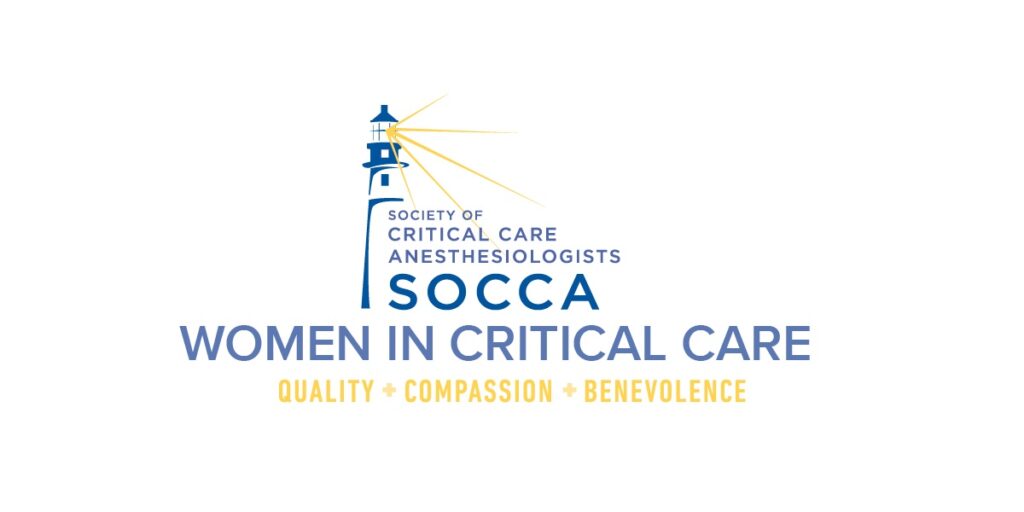 ​SOCCA Women in Critical Care Meetup, Thursday, March 17, 4:30 pm – 5:30 pm ET
SOCCA Women in Critical Care is a new initiative to gather women practicing in critical care to meet and advance networking, social support, academic interests and research collaborations. We hope to hear what members would like to see happen within this group, and how they can contribute.
Join us for a special presentation from:

Professor Deborah Cook
Academic Chair of Critical Care Medicine, Professor, Department of Medicine, Health Research Methods, Evidence and Impact, McMaster University
Early Career Group Networking Event, Thursday, March 17, 7:15 pm – 8:15 pm ET
This networking session will consist of small group discussions hosted by senior faculty. The intention of this networking session is to encourage discussion and interaction among participants in a friendly and relaxed environment.